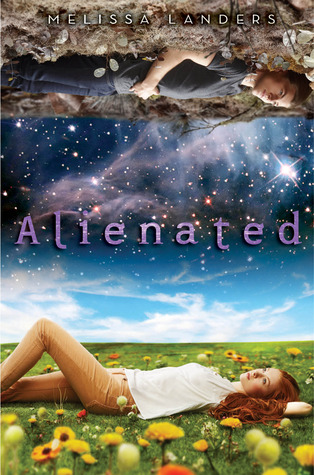 Happy Thanksgiving everybody! I hope you have lots of turkey, family time, desserts and reading.
We will be having two meals with family. Tonight me and the husband are going to the movies. Horrible Bosses 2 is on the agenda.
I had planned on making fabulous desserts. I have been stalking Pinterest for delicious delectables. I did find several and was prepared to make them. But I'm sick with sinus issues. At least one of us is sick on the holidays. It's a grand tradition!
So, I rummaged through Walmart yesterday and found a good-looking cheesecake and chocolate cake. But there's always Christmas right to bake my little heart out right? :)
On to the show: Teenagers (one of whom is an alien), a love story, aliens versus humans can all be found in Melissa Landers' Alienated. I'm not a big science fiction reader, but the plot sounded too fun to pass up.
From Goodreads:
"Two years ago, the aliens made contact. Now Cara Sweeney is going to be sharing a bathroom with one of them.
Handpicked to host the first-ever L'eihr exchange student, Cara thinks her future is set. Not only does she get a free ride to her dream college, she'll have inside information about the mysterious L'eihrs that every journalist would kill for. Cara's blog following is about to skyrocket.
Still, Cara isn't sure what to think when she meets Aelyx. Humans and L'eihrs have nearly identical DNA, but cold, infuriatingly brilliant Aelyx couldn't seem more alien. She's certain about one thing, though: no human boy is this good-looking.
But when Cara's classmates get swept up by anti-L'eihr paranoia, Midtown High School suddenly isn't safe anymore. Threatening notes appear in Cara's locker, and a police officer has to escort her and Aelyx to class.
Cara finds support in the last person she expected. She realizes that Aelyx isn't just her only friend; she's fallen hard for him. But Aelyx has been hiding the truth about the purpose of his exchange, and its potentially deadly consequences. Soon Cara will be in for the fight of her life—not just for herself and the boy she loves, but for the future of her planet."
I "know" Melissa from an online book club. I'm so happy for her she is now a published author. She also writes romance novels as "Macy Beckett."
I was left wondering, hmmmm, could this really happen? Not the "whoa, I could one day fall in love with an alien" but instead "what if there are aliens?" .... Nah, that's crazy-talk!
I think this book is one for teens who love romance plots and for adults who love teens.
I would also like to give a big round of applause for this cover! It's one of my favorites for 2014. I bought the hardback for the cover. The next book "Invaded" is set to debut in February.